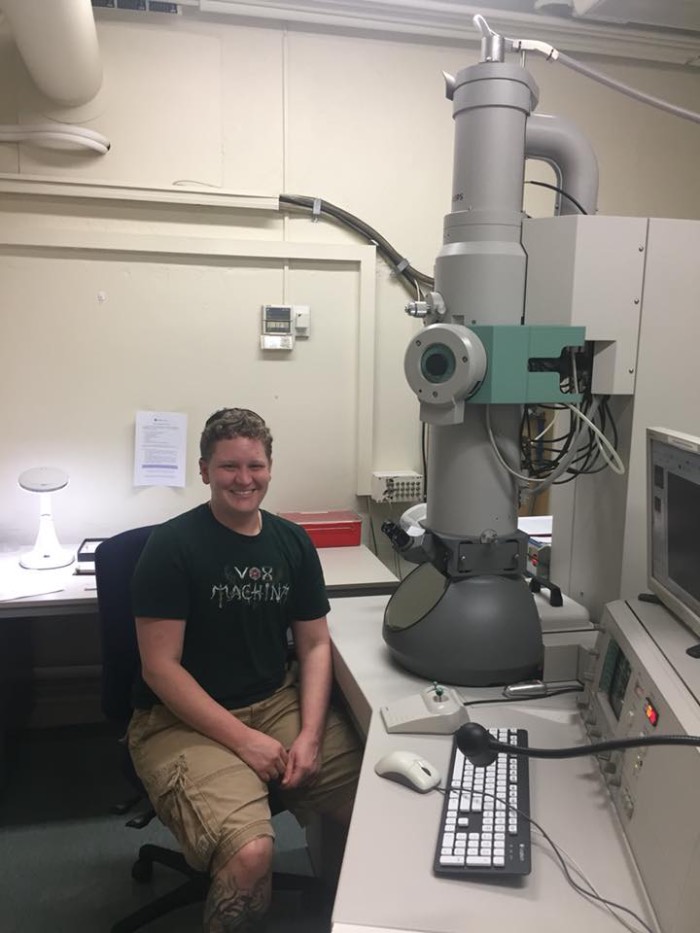 Jackson is originally from a small town in the state of Alabama, United States. He gained most of his hands-on lab experience while serving as a 68K Medical Laboratory Specialist in the US Army. After 10 years in the military in a variety of postings that included overseas blood operations, general clinical lab work and specialized work in microbiology/virology, he moved to New Zealand to pursue tertiary study at the University of Otago.
After graduating in 2018 with a Bachelor's of Science in Microbiology, Jackson joined Dr. Jo-Ann Stanton's lab group in the Department of Anatomy to support her work on an MBIE grant for developing point-of-need diagnostic devices. His time in the Stanton Lab also saw him learning next-gen sequencing techniques and experience on the Thermo Scientific PGM & Proton platforms, as well as Oxford Nanopore Technologies MinION device.
In April 2022 Jackson began work with the Gemmell Lab as a research technician. His current projects include supporting Dr. Gert-Jan Jeunen's Marsden work with Antarctic sponge eDNA and collaborative work with the Cawthron Institute on the Marine Biosecurity Toolbox. He also provides general assistance to students and researchers within the group, as well as helping with the Genetic Analysis Service Sequencing service , managed by Joanne Gillum.
Contact Details
Publications
Jeunen, G.-J., von Ammon, U., Cross, H., Ferreira, S., Lamare, M., Day, R., Treece, J., Pochon, X., Zaiko, A., Gemmell, N. J., & Stanton, J.-A. (2022). Moving environmental DNA (eDNA) technologies from benchtop to the field using passive sampling and PDQeX extraction. Environmental DNA, 00, 1– 14. https://doi.org/10.1002/edn3.356
Harfoot, R., Lawley, B., Hernández, L. C., Kuang, J., Grant, J., Treece, J. M., LeQueux, S., Day, R., Jack, S., Stanton, J.-A. L., Bostina, M., Ussher, J. E., & Quiñones‑Mateu, M. E. (2022). Characterization of the first SARS-CoV-2 isolates from Aotearoa New Zealand as part of a rapid response to the COVID-19 pandemic. Viruses, 14, 366. doi: 10.3390/v14020366
Stanton, J.-A. L., O'Brien, R., Hall, R. J., Chernyavtseva, A., Ha, H. J., Jelley, L., Mace, P. D., … Treece, J. M., … Ussher, J. E., … Hore, T. A., Moser, T. V., Harfoot, R., Lawley, B., Quiñones‑Mateu, M. E., … Blaikie, R. (2021). Uncoupling molecular testing for SARS-CoV-2 from international supply chains. Frontiers in Public Health, 9, 808751. doi: 10.3389/fpubh.2021.808751
Potemkin, N., Cawood, S. M. F., Treece, J., Guévremont, D., Rand, C. J., McLean, C., Stanton, J.-A. L., & Williams, J. M. (2022). A method for simultaneous detection of small and long RNA biotypes by ribodepleted RNA-Seq. Scientific Reports, 12(621). doi: 10.1038/s41598-021-04209-4
Lawley, B., Grant, J., Harfoot, R., Treece, J. M., Day, R., Hernández, L. C., Stanton, J.-A. L., Ussher, J. E., & Quiñones‑Mateu, M. E. (2021). Rapid response to SARS-CoV-2 in Aotearoa New Zealand: Implementation of a diagnostic test and characterization of the first COVID-19 cases in the South Island. Viruses, 13(11), 2222. doi: 10.3390/v13112222
Hämmerli, Anne-Flore & Geest, Gerrit & Stanton, Jo & Treece, Jackson & Sannino, Giuseppina & Abriel, Hugues. (2021). Rapid DNA extraction with prepGEM ® Universal and PDQeX nucleic acid extractor from human saliva and blood for SNP calling using Oxford Nanopore sequencing technology. 10.13140/RG.2.2.23904.20484.