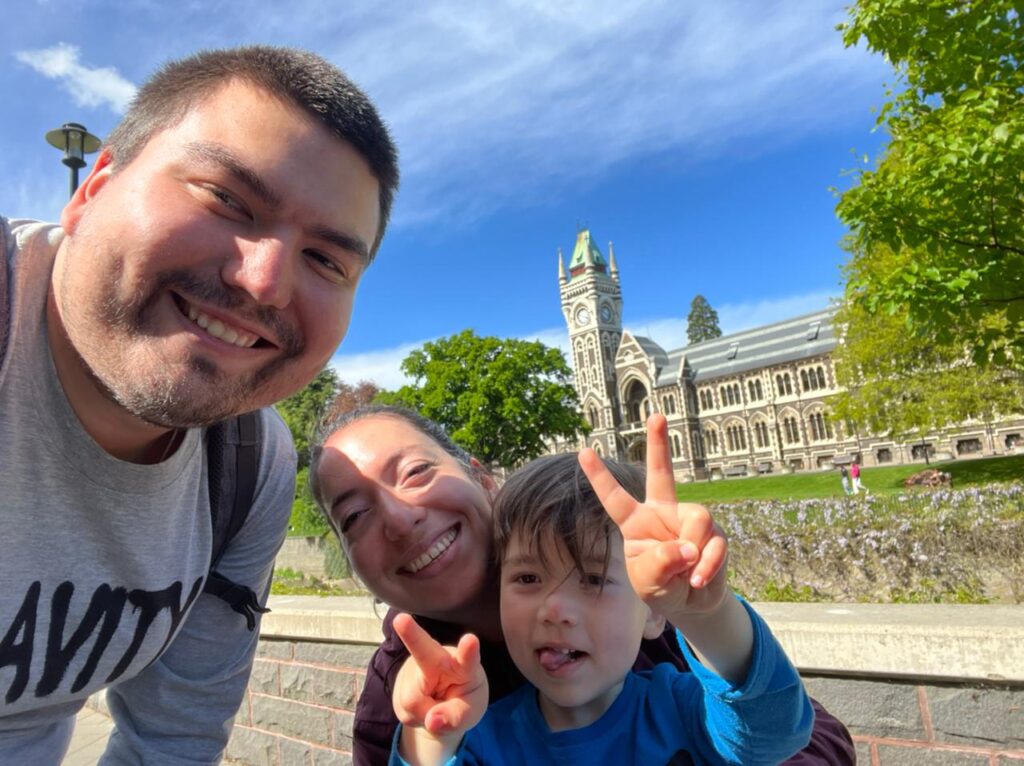 Hi! I am Benjamín Durán-Vinet. I am from Chile (Temuco), and I have a Bachelor in Biotech and Bachelor (Honors) in Biotech from the University of La Frontera. I have focused from my early days back in 2016 on applied research. I have worked on several projects as a research assistant, obtaining knowledge of molecular biology, genetic engineering, and molecular diagnostics for marine biosecurity. In Dec 2019, I obtained my first funded project, known as "Harmful Algal Blooms biomonitoring through Cas13" to research and develop an emergent toolbox known as CRISPR-Dx for marine biomonitoring purposes.
Nowadays, I have just started to work at the Neil Gemmell Lab as a provisional Ph.D. student at the University of Otago (Department of Anatomy) to further develop CRISPR-Dx toolbox for marine biomonitoring with a blend of machine learning. My work will be within the framework of the project "CAWX1904 – A Toolbox to Underpin and Enable Tomorrow's Marine Biosecurity System". We aim to develop several new molecular tools for marine biosecurity.
I will be focusing on using CRISPR endonucleases to detect specific traces of eDNA/eRNA that may help us to elucidate the presence and abundance of non-indigenous species and/or harmful algal bloom species.
I am always open to help and collaborate, so don't feel shy and reach out if you are interested!
Contact
benjamin.duran-vinet@postgrad.otago.ac.nz
Versión Española
¡Hola! Soy Benjamín Duran-Vinet. Soy de Chile (Temuco), y tengo una Licenciatura en Biotecnología y una Licenciatura (con honores) en Biotecnología en la Universidad de La Frontera. Me he centrado desde mis inicios allá por 2016 en la investigación aplicada. He trabajado en varios proyectos como asistente de investigación, obteniendo conocimientos de biología molecular, ingeniería genética y diagnóstico molecular para bioseguridad marina. En diciembre de 2019, obtuve mi primer proyecto financiado, conocido como "Detección de marea roja mediante Cas13" para investigar la emergente caja de herramientas conocida como CRISPR-Dx para fines de biomonitoreo marino.
Actualmente, acabo de empezar a trabajar en el Neil Gemmell Lab con un doctorado provisional en la Universidad de Otago (Departamento de Anatomía) para desarrollar aún más la caja de herramientas CRISPR-Dx para el biomonitoreo marino en combinación con machine learning. Mi trabajo estará dentro del marco del proyecto "CAWX1904 – A Toolbox to Underpin and Enable Tomorrow's Marine Biosecurity System". Nuestro objetivo es desarrollar varias herramientas moleculares nuevas para la bioseguridad marina.
Me centraré en el uso de endonucleasas CRISPR para detectar rastros específicos de eDNA/eRNA que pueden ayudarnos a dilucidar la presencia y abundancia de especies no autóctonas y/o especies de floraciones de algas nocivas.
Siempre estoy abierto a ayudar y colaborar, ¡Así que sí estas interesado/a, háblame!
Publications
Durán-Vinet, B., Araya-Castro, B., Zaiko, A., Pochon, X., von Ammon, U., Wood, S. A., Stanton J-A. L., Jeunen, G-J., Scriver, M., Edgecombe, J., Chao T-C., Ban, D. K., Moarefian, M., Aran, K., Gemmell, N., (Manuscript in preparation). "CRISPR/Cas-based biomonitoring for marine environments: towards crRNA design optimization through machine learning synergy".
Gajardo, G., Morón-López, J., Vergara, K., Ueki S., Guzmán, L., Espinoza-González, O., Vilugrón J., Fuenzalida, G., Murillo, A. A., Riquelme C., Camerón, H., Nagaif, S., Maruyama, F., Fujiyoshi, S., Yarimizu, K., Ávila, A., Larama, G., Rilling, J. I., Campos, M., Ruiz, T., Durán-Vinet, B., Acuña, J. J., Jorquera, M. A., (Manuscript submitted) "The holobiome of marine Harmful Algal Blooms (HABs): a novel ecosystem-based approach for implementing predictive capabilities and HAB managing decisions". Environmental Science and Policy.
Abanto, M., Leyton-Carcaman, B., Vázquez, C., Durán-Vinet, B., Bobadilla, K., Rodriguez-Ruiz, C., San Martín, A., Riquelme, P., Baez, F., Carrasco, M.J., Rodríguez-Moretti, G., Cerda, A., Saavedra, N., Mora, M.L., (2022) "Genome Sequences of 408 SARS-CoV-2 Strains Obtained from Nasopharyngeal Swabs in La Araucanía Region, Southern Chile". Microbiology Resource Announcements. https://doi.org/10.1128/mra.00121-22
Durán-Vinet, B., Araya-Castro, K., Calderón, J., Vergara, L., Weber, H., Leal-Rojas, P., (2021). "CRISPR/Cas13-based platforms for a potential next-generation diagnosis of colorectal cancer through extracellular vesicles micro-RNA detection: A review" Cancers, 13. https://doi.org/10.3390/cancers13184640
Durán-Vinet, B., Araya-Castro, K., Chao, T-C., Wood, S. A., Gallardo, V., Godoy, K., Abanto, M., (2021). "Potential applications of CRISPR/Cas for next-generation biomonitoring of harmful algae blooms: A review" Harmful Algae, 103. https://doi.org/10.1016/j.hal.2021.102027
Araya-Castro, K., Chao, T-C.; Durán-Vinet, B., Cisternas, C., Ciudad, G., Rubilar, O., (2021). "Green Synthesis of Copper Oxide Nanoparticles Using Protein Fractions from an Aqueous Extract of Brown Algae Macrocystis pyrifera". Processes, 9. https://doi.org/10.3390/pr9010078